THIS 22-MINUTE PRODUCTION
introduces viewers of all ages to one of the most valuable natural treasures of Southern California, the Angeles National Forest. Located at the doorstep of the nation's second largest city, and comprising roughly one-quarter of the land area of Los Angeles County, the Angeles National Forest holds a unique position among national forests. It is in fact an "urban national forest." For millions of Southern California residents, it is an inviting refuge, a natural sanctuary in which to enjoy some of the simpler pleasures of life.
Discovering the Angeles
was designed to serve as an interpretive resource for visitors to the forest, as well as for classroom teachers and outdoor educators wanting to introduce young people to the beauty and wonder of the great outdoors. It seeks to foster positive attitudes toward nature generally and wise stewardship of the wildland resources of Southern California in particular.
The video shows actual forest visitors engaged in a wide variety of individual and group activities, from hiking and picnicking to water sports and mountain bike riding. These people represent the demographic diversity of Southern California. Their ages, ethnic backgrounds, recreational interests, and physical abilities vary widely, yet they share a common love of the forest. These men, women, and children express genuine feelings of connection and valuing—and also a desire to help care for forestlands. Through them, viewers will discover not only the abundant joys of nature, but also the personal rewards that come from thoughtful and responsible behavior in the outdoors.
In addition to the 22-minute feature video, the VHS cassette contains a special 12-minute introduction for educators. A printed Teachers' Resource Guide is also available upon request.
Discovering the Angeles
was created by Paul Bockhorst Productions for the Big Santa Anita Interpretive Association, a non-profit environmental education organization that is dedicated to heightening public awareness and appreciation of the wildland resources of Southern California. It was produced in cooperation with the USDA/Forest Service, with support from Southern California Edison.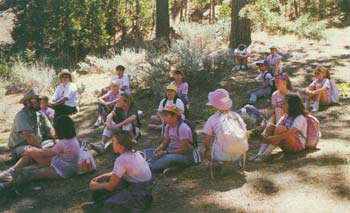 Links to Related Sites
Angeles National Forest
Forest Headquarters, Arcadia, California
www.r5.fs.fed.us/angeles
Home / Art and Architecture / Nature and the Environment / History and Culture /
Product List and Order Desk / Retail Outlets / Contact Us / Site Map

© Paul Bockhorst Productions